A service to keep your boiler running smoothly while maintaining your warranty.
Boilers are integral to keeping our homes warm and for hot water.
A service will ensure your boiler is running smoothly and will catch any nast surprises early. A gas safe registered engineer from First Call Home Services will service your boiler. Offering honest advice and recommendations based on your homes heating system.
You can expect a boiler service to cost between £40 – £90 depending on the your boiler type.
Call us today to find out how much your next boiler service could cost
Why Trust
First Call Home Services
Available 24/7
Access to our network of approved engineers throughout the Midlands
Over 15 years' experience taking care of UK homes
12 months' guarantee on most repairs

Hundrends of 

reviews from happy customers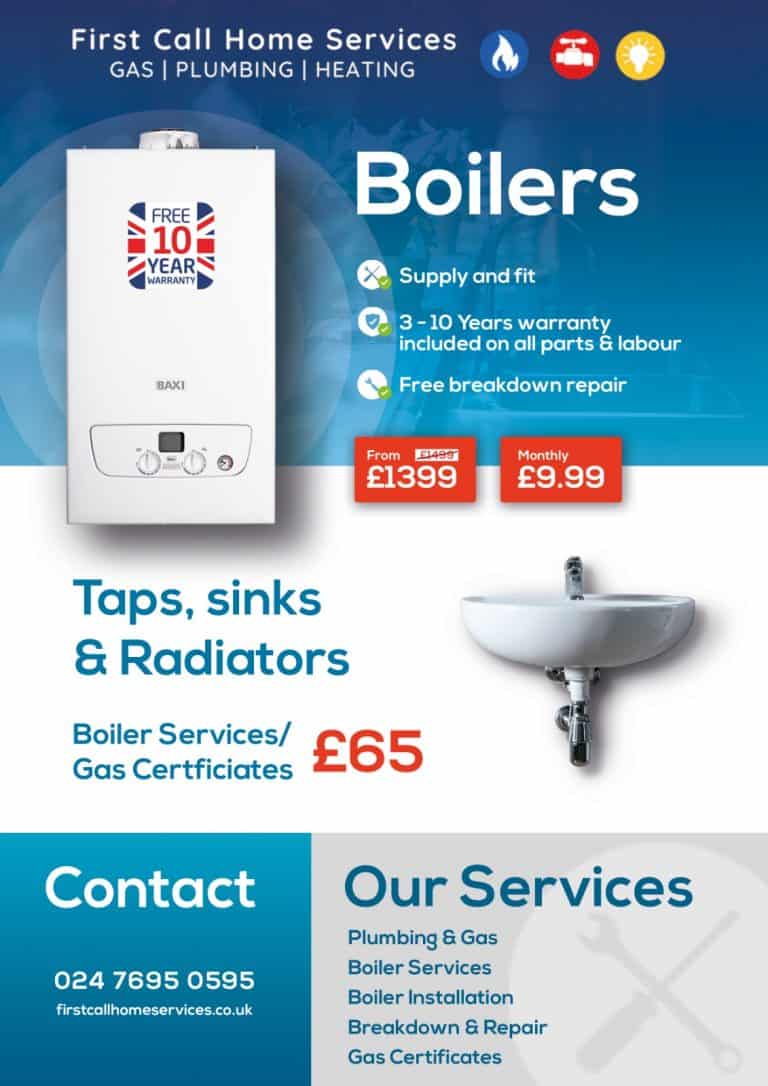 Boilers On Finance From £10 Per Month
First Call Home Services can now offer boilers on finance from as little as £10 per month for the boiler.
We will supply and fit on the same day. All boilers come with a 7 year manufactures warranty plus an extra 3 years warranty from us.
If you need a boiler replacing or installing, call us now 02476 950 595 or click the link below to call us.
The application process takes 15 minutes and is usually accepted on the same day.
We have a range of boilers to suit your budget. We will also add the cost of fitting to the package, although if you would like the boiler from us please let us know.
First Call Home Services Plumbing & Heating Coventry
Collection from: 7 Broomfield Rd, Earlsdon, Coventry, CV5 6JW
Registered Address: 133 Tame Road, Birmingham, United Kingdom, B6 7DG
Open 24 Hours
02476 950 595
Icons made by Smashicons from www.flaticon.com